CUSTOM KITCHEN REMODELING IN DOWNERS GROVE
CUSTOM KITCHEN REMODELING IN DOWNERS GROVE
Welcome to Kitchens & Spaces! We are a professional build firm with over 25 years of experience in designing & building custom kitchens, custom bathrooms and other residential spaces. We specialize in bringing your dreams to life. Whether you are looking to build a new home office or a brand new kitchen for entertaining guests, we partner with you from design to project completion to ensure your dreams become reality. Call our team today to discover the Kitchens & Spaces difference!
REMODELING DESIGN EXPERTS
For many families, kitchens are considered the heart of the home. You prepare your meals, you entertain your friends, and you gather there for conversation. Some of our best, most heartwarming moments happen in our kitchens.
We provide the best kitchen remodeling and renovation services in the entire area. Our kitchens contain only the best finishes and designs, using the highest quality material, hardware and accessories. We can work with you to create a stunning, affordable new kitchen, a space that you and your family will enjoy for years.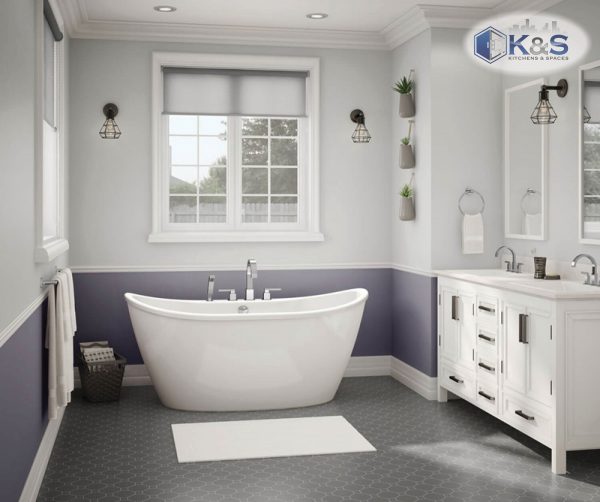 A bathroom is not just a functional room, it can be your retreat from the world. It should be an attractive space, a place you can go for relaxation, but also a space that meets all your needs. Our bathrooms are designed by professionals and built by experts with the highest quality material. Our team of designers will offer you an array of resources, soothing colors, exquisite stonework and thoughtful details to realize your dream bathroom.
We specialize in custom design for any space in your home. We can design or remodel any area, from offices to laundry rooms, basements or mud rooms, a home library or an entertainment center. No matter what vision you have for your home, Kitchens &Spaces can re-fashion, remodel or reinvent your home, making dreams become reality, one space at a time.