Amazing kitchen remodeling designs expected to go huge in 2020!
December 19, 2019
Kitchen remodeling ideas in 2020 will reign in its supreme level with addition of more colors, islands, larders, wood and all-white theme. Kitchens and Spaces Inc can make your dreams for home renovations come true.
New kitchen designs in the year 2020 focus on functionality, practicality, organization yet simplicity! Your kitchen is the space that transmits the warmth of your beautiful home and you don't want it to fade away. Appliances require installation and plumbing services can't be repeated often so the demand for a perfect modern kitchen remodeling is relatively higher in your new home.
The coming year 2020 will see changing trends in kitchen remodeling and little details like stainless steel, higher gloss and straight lines should not go missed. Kitchens and Spaces Inc offer the newest trends in home renovations in Downers Grove IL.
So what are the latest kitchen remodeling designs that are going to stay ahead of the curve in 2020? Find out.
Experts at Sherman Williams have carefully monitoredrecent trends and preferences, and have called Poised Taupe (SW 6039)one of the top colors for 2019. In fact, this color has been so successful for many years, as it was also named the Color of the Year for 2017!
Our Kitchens & Spaces brand of custom Amish-made cabinets can be ordered to match any color in the Sherman Williams pallet.
This warm brown color creates a neutral backdrop that suits most styles and kitchen designs ranging from contemporary to transitional, and is the perfect balance of warm and cool tones.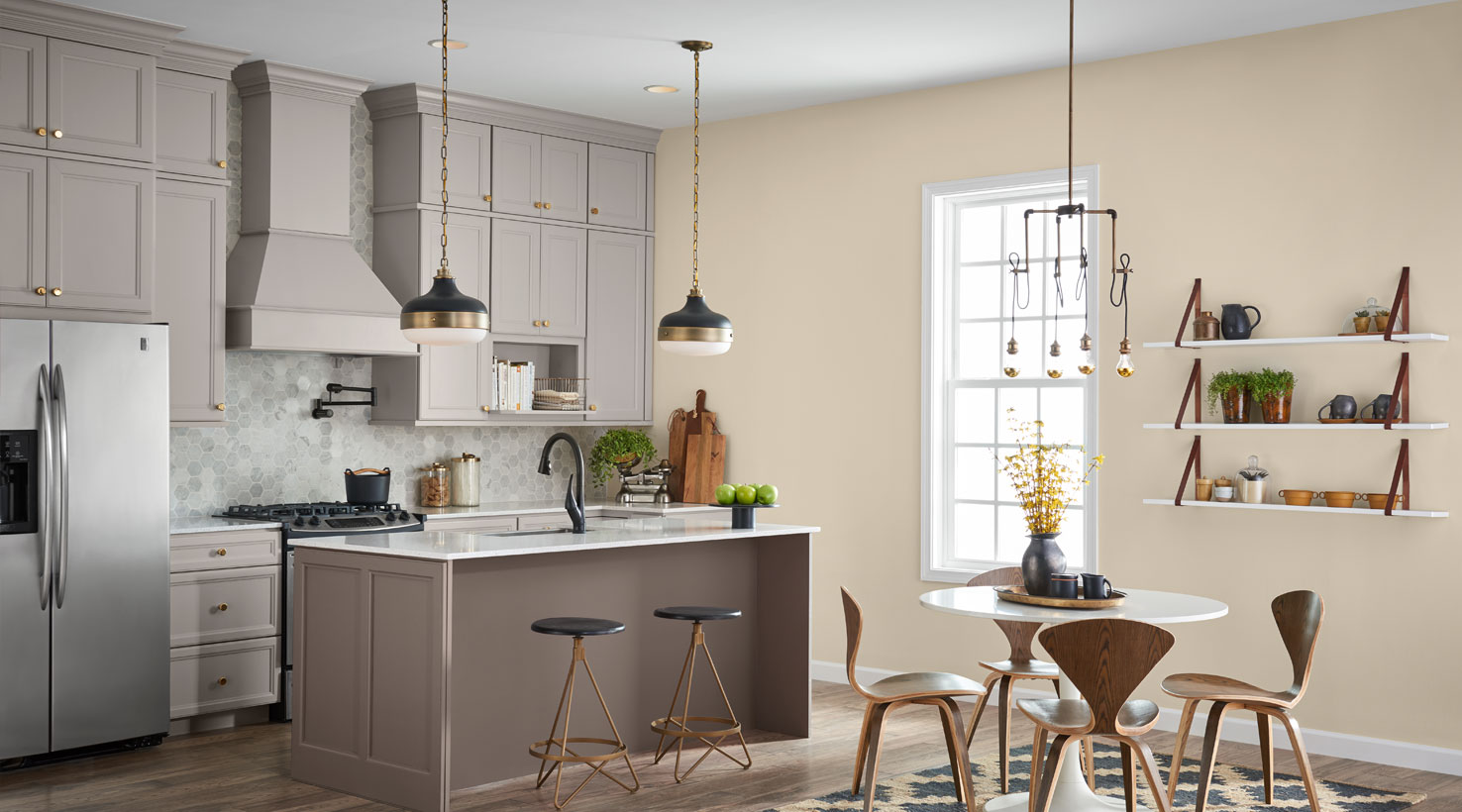 Back to Marbles
If there's one thing that will return from the stone age to 2020, it is going to be marbles. Marble in kitchen designs are storming the style charts and reforming the interiors.
Double Islands
Times are changings and we are gradually moving to the larger kitchens with open spaces so the planning needs to be alike. Kitchen islands are one of the vital features of any kitchen and double kitchen islands have become a cool addition to kitchen spaces where space is no bar.
Larder love
Pantry or larder cupboards have been top kitchen staples since long but in the year 2020, it is going to be a must-have to complete modern kitchen designs. It makes sense to customize and have every kitchen item in one place and more organized. Storage capacity of larder outshine the need for numerous wall cupboards.
Wood Will Rule
Wood in kitchen has never been out of fashion but it is now enjoying its fresh revival for the coming year 2020. The demands for the subtle-grained thing, slightly paler than walnut or oak should do its job well. Kitchens and Spaces Inccan offer bespoke kitchen and bathroom remodeling ideas in Downers Grove IL.
Gold to Shine More
Taps and sinks are available in a huge variety of choices but gold has already started ruling the game. Gold is acting as perfect style statement meeting customer demands by being purely functional and heavily influencing the overall look of your kitchen.
Black Rustic Charm
Black walls, work surfaces and cabinetry are the demand of this time with the black color promising more livable, textured and inviting feel to your kitchen designs. The black textured woods should also add a homely, stunning and rustic charm to your new kitchen. If you are renovating your new kitchen and want to see black and gray designs, Kitchens and Spaces Inccan suggest you with new kitchen and bath remodeling ideas in Downers Grove IL.
Modern White Kitchen
Modern white and gray kitchen is the talk of the town, particularly if you have a small kitchen area as white will make it look wide and huge. White kitchens are immensely popular as they promise a more powerful visual effect. The best would come out if you try to combine it with more colors and flowers.
These are the modern kitchen trends in 2020 that will actually never go out of style and will continue to make you happy. Rustic kitchen aesthetic, farmhouse kitchen or all-whites – what's your choice? Get in touch with Kitchens and Spaces Inc offering exceptional kitchen remodeling services in Darien IL.